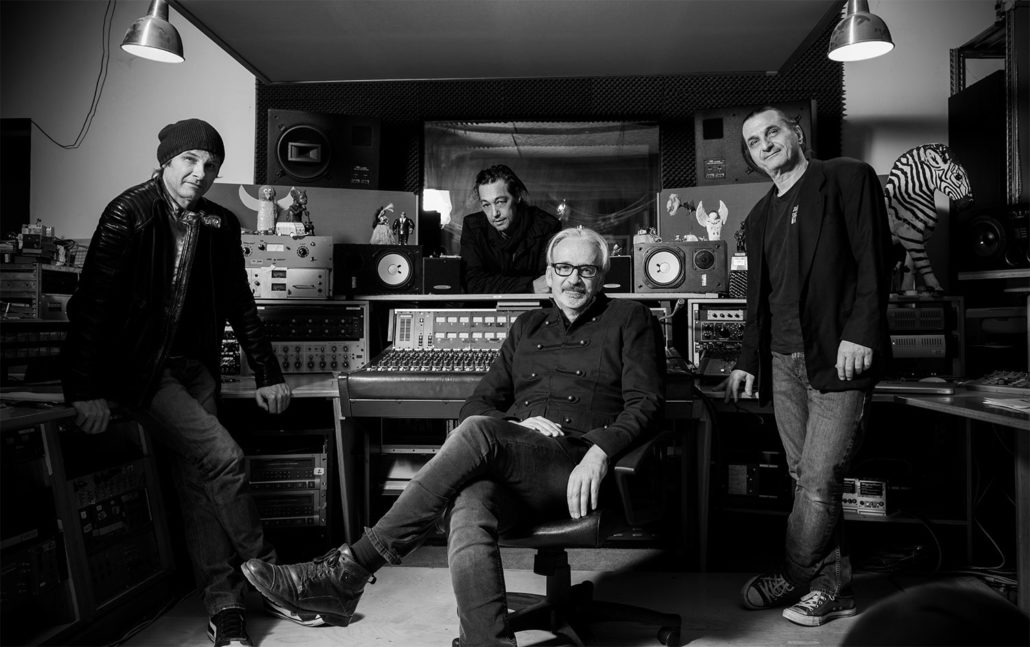 Al Terego powered by Alex von Ziegler vocals, guitars, keyboards
Dy Terego powered by Andy Margharitis guitars, backing vocals
Bt Terego powered by Beat Gadola drums, backing vocals
Fx Terego powered by Felix Mueller bass, backing vocal
"Al Terego & the Hi-Q's" is a quite newly formed band of weathered musicians coming from many different walks of life and musical backgrounds. Their quest is to travel through their songs, to search in each of them for the special magic of symbiosis between melody, harmony and lyrics, and thereby creating what could best be called Singer-Songwriter-Rock, with some Retro-Pop-Rock features but with a focus on the mood and empathy of the contemplating Rock soul and the storytelling musician.
Great tidal wave of outstanding young alternative musicians
Great ancestors of Blues and Rock music
Great souls, the empathy and the poetic power of thousands of outstanding singer songwriters on all continents
Great masters of cord and metric progression
"Al Terego & the Hi-Q's" ist eine erst kürzlich gegründete Band von wettergegerbten Musikern mit verschiedenen Werdegängen und musikalischen Hintergründen. Ihre Passion ist es durch ihre Songs zu reisen und in ihnen nach dem Speziellen und Magischen zu suchen, welche in der Symbiose zwischen Melodie, Harmonie, Text entstehen. Dabei kreieren sie etwas, was man am besten als "Singer-Songwriter-Rock" bezeichnen könnte, eine Musikrichtung, die auch gewisse "Retro-Pop-Rock" Elemente beherbergt, aber dabei stets auf die Stimmung und die Empathie der kontemplativen Rockseele und des geschichteerzählenden Musikers fokussiert.
Die grossartige Flut von hervorragenden jungen alternativen Musikern
Die grossartigen Ahnen des Blues und der Rock Musik
Die grossartigen Seelen, die Empathie und die poetische Kraft von tausenden hervorragenden Lieder- und Geschichteerzähler aus allen Kontinenten
Die grossartigen Meister der harmonischer und metrischer Progression
"Al Terego & the Hi Q's" are centred in the Wetzikon basin in the hilly Zurich pre-alpine region, a centre that has recently produced a stunning high quality musicians and bands and is to become the "Seattle" of Switzerland
Wir sind mit der Ebene von Wetzikon, im hügeligen vor-alpinen Zürcher Oberland verwurzelt, einem Zentrum, welches in letzter Zeit fantastische und hoch-qualitative Musik hervorgebracht hat, und welches bald zum schweizerischen "Seattle" werden könnte.